Netflix does it, Swapfiets does it, Adobe does it: the subscription economy has been the cross-industry growth trend in recent years. The concept is simple: a subscription system that leverages the technical advantages of digital transformation and helps companies grow. What is so attractive about it, especially in the 21st century?
The "As a Service" Revolution: Flexibility as to the Key to Success for Subscription Economy
The expectations we place on companies, their products, and services are no longer the same as they were 30 years ago. Our society is changing and our individual usage behavior as consumers is also changing. Flexibility and individuality are the two factors that form the basis of the rise of the subscription economy. Traditional business models are being replaced by innovative subscription models and physical products are being remodeled into practical, flexible services.
Netflix is ​​a flagship of the subscription economy: a company that has grown incredibly quickly with a modern subscription model. At Netflix, however, the focus is not only on the film or series but on the individual experience. Instead of a DVD, there is access to a variety of options including tailored recommendations for maximum entertainment. Services instead of products, access instead of ownership, and a new age of customer relationships apply to subscription models. Because here the customer experience is in the foreground and technical possibilities allow companies to learn more about their customers and their wishes than ever before. In this way, products and services can be optimally tailored and brand-customer relationships can be personalized.
In view of the social trends, the subscription economy represents a contemporary and profitable business model for scaling up. Subscriptions are not only available to purchase products and services online, but also outside of e-commerce. The best-known "as-a-service" product is, for example, software as a service, a form of cloud computing. But companies in other industries are also showing the way: at Hello Fresh, you can subscribe to cooking boxes, Swapfiets offers bicycles by subscription, and Unicorn Workspaces offers flexible offices by subscription.
Subscription business models are an attractive financial option for companies because they generate a constant stream of revenue. They are flexible monetization models and offer the opportunity to flexibly design your own pricing model. The success of a subscription business ultimately depends on whether the business income covers the expenses. The principle is that the costs of acquiring new customers must be lower than the customer lifetime value. The following 5 key figures are relevant when measuring the success of a subscription model:
Acquisition costs of the female subscribers: all aggregated costs for the acquisition of new female subscribers, e.g. marketing expenses, sales commissions
Monthly recurring income: the monthly amount of fixed income (net user fee/month)
Churn rate: Subscriptions are quickly concluded and quickly canceled, this rate must be kept in mind
Monthly recurring costs: Expenses are necessary to generate income, but should also be controlled
Customer lifecycle: The lifetime value describes the total turnover that is achieved per subscription.
"To subscribe or to not subscribe" That is the Question" for Subscription Economy
Flexible, individual, uncomplicated: Subscriptions meet the spirit of the times. Modern consumers don't want to have to forego anything and choose access through ownership. This is why the subscription economy is a response to consumer behavior in the 21st century and profitable for companies. With more insight into the consumer behavior of customers, the product can easily be improved, users can be kept simpler and thus predictable sales flows can be generated. This creates optimal conditions for company growth. At the same time, however, customer expectations have also risen: Products not only have to be attractive, but they also have to be extraordinary and personal experiences. Added value must be created. The actual implementation of a subscription model with a view of the IT effort and the requirements for financial accounting is also challenging. "To subscribe or not to" is the ultimate question. The question for consumers, but also for companies, before deciding whether subscriptions are the right way for them to scale.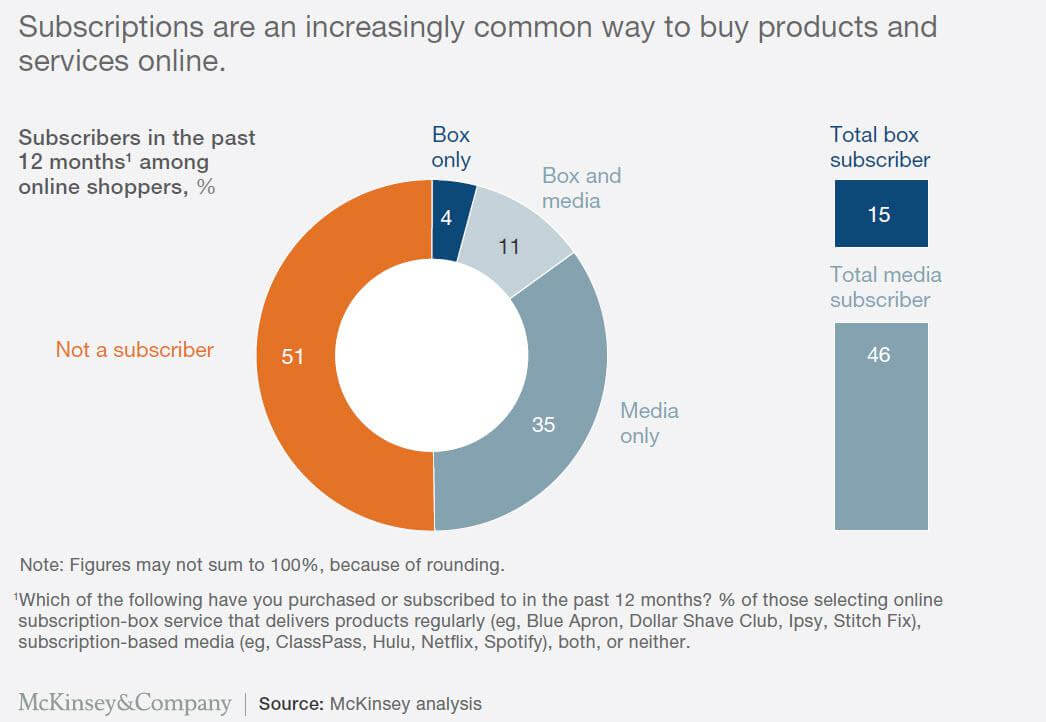 What are the differences Between Financing, Leasing, and Subscription?
But how do these subscription models work in contrast to classic leasing or financing? This is explained below using the car as an example, but it can of course be applied to various products or services that are available by subscription.
If you cannot put the money for the car purchase directly on the table in cash, you can finance your car. In the case of financing, basically, a loan is taken out from a bank in order to be able to pay the vehicle price directly to the dealer. The money is then paid back to the lender in monthly installments. The advantage here: At the end of the term, you actually own the car. Disadvantages are high-interest rates and hardly any flexibility.
Leasing is a kind of long-term car rental; here, too, monthly installments are paid, but to the dealership itself – usually over a period of two or three years. At the end of the leasing period, you can decide whether the car should be returned and a new car leased if necessary, or whether you want to keep the car – the contributions already paid will then be credited to you.
Since owning a car is becoming less and less important for many – especially young – people, there are currently more car subscription models on the market. They are sometimes referred to as all-inclusive leasing and are characterized by an extremely high level of flexibility and comprehensive service. The user pays a usually quite high monthly fee, but does not have to worry about anything – everything is already covered by the subscription, both financially and organizationally. If the car needs to be repaired, for example, all you need to do is call the provider. All insurance and taxes are already included in the monthly fee. The customer actually only has to refuel himself – and can choose a different model daily, weekly, or monthly, depending on the tariff.
Not all Subscriptions are the Same
But there are not only differences between subscriptions and leases. Since almost every good can now be subscribed to, different subscription models have of course also developed. From rental subscriptions like for the car to beauty or grocery boxes to club memberships like Netflix or software providers. Incidentally, SaaS (Software-as-a-Service) is also a hot topic of our day. Since the triumphant advance of the cloud, more and more software providers have been selling their products remotely and as a subscription (well-known examples are Microsoft Office 365 and Adobe Creative Cloud).
Companies benefit particularly from the possibility of subscribing to SaaS offers as required and being able to install them on their own devices instead of having to provide expensive software licenses and the necessary hardware.
So it turns out that the subscription model is not new, but has developed rapidly in recent years. The subscription economy is admittedly a bit of "old wine in new bottles", but "awesome shit" still applies, with countless advantages for customers and companies.
Some Statistics for Subscription Economy Model
Below, you will see statistical facts for Subscription Economy Model.
64% – The percentage of 18 to 24 years old who consume at least one product or service by subscription (source: Leslivresblanc, 2018)
9% – The percentage of French people who are attached to the fact of owning or not a good that they consume (source: Leslivresblanc, 2018)
45% – The percentage of French people who have at least one streaming or box subscription. (source: Leslivresblanc, 2018)
38% – The percentage of consumers with more than 6 subscriptions (source: Simply )
3 – The average number of subscriptions per French (source: Webloyalty)
52% – The percentage of French people who spend more than 50 € / month on subscriptions, excluding electricity and gas (source: Webloyalty)
100 billion dollars – The weight of the software market dedicated to the subscription economy (source: Ziqy)
Who are the Main Players for Subscription Economy?
Below, you will see the main actors for subscription economy model.
Netflix – No need to introduce this streaming industry behemoth to you, almost all of us know him today. One of the industry's pioneers, Netflix was created in 1997 as an online video rental and shopping site.
OCS – Netflix's main rival in France, OCS offers its own streaming service with many programs.
My Little Box – A benchmark for French box subscriptions that offer low-cost boxes containing various samples related to the beauty and fashion industry.
Le Petit Ballon – A box that could only be French: a subscription to receive wine each month at home.
9 Subscription Business Model Example
Two main types of subscriptions exist on the market: the classic subscription where the user pays a fixed rate to benefit from a service or regular service and the on-demand subscription where the user pays only for what it consumes. Each of them has several variations with their own specificities, allowing entrepreneurs to find the right system adapted to each of their projects. 1min30 tells you more about the 9 business models of subscription sales, the most popular today.
1. Subscription to a Website or Media
It is the most classic model, used by most e-commerce sites and the media. But it requires good analysis and effective and efficient tools if we want to achieve our objectives. In fact, an in-depth analysis will better understand the effectiveness of this economic model. You have to understand the advantages and better understand the disadvantages. As for subscription management tools, they are essential, especially when it comes to payments.
We must also think about the "means" used to encourage Internet users to subscribe. A strategy that should not frustrate users too much. Among other things, we can, for example, give them access to 1 or 2 articles before blocking access, display only part of the content, set up a model where each article is paid independently, offer articles accessible only to subscribers, or promise subscribers pages displayed without advertising.
2. Subscription to a Network
Traditionally, it is the Business Model of the telephony sector, but it is an economic model that has adapted to other sectors, in particular that of the Web. The creation of a network or a social platform depends above all on the number of users. The first objective is therefore to accumulate as many customers as possible, before even thinking about monetization, for example via advertising. Subscription to a network is then based on the viral engine.
As a rule, subscribers of a social network or platform, use and benefit from free services. The "paying" side is then found in the connection between the customer and the user. This link is often made through classic advertising and sponsored or sponsored messages. Some large companies that have opted for this economic model have even started selling personal data. But it is still a controversial and very delicate subject with its risks and problems.
Several start-ups and small businesses in this sector, including messaging and other "small" social networks, have managed to accumulate a significant number of subscribers, to the point of being bought by the giants of the Web.
3. The Private Club Model
As in other sectors, everything will depend on the economic model adopted for the private club. But generally, a private club offers a range of services based on the principle of exclusion. Offers aimed at a certain type of customers who share common interests. The targeted clientele, therefore the members, is handpicked because they are often people who want to obtain something more, specific, rare, offered in a setting that stands out.
Thus, when a company wants to create its private club, the important thing is to clearly define the target, then to offer products or services whose value must be equal or even greater than the expectations of the "privileged". Having an original idea of ​​the offers when establishing the economic model is essential to attract more customers. They, for example, want 24-hour access to services or the platform and more products than an average customer, personalized assistance with professionals in the sector, etc.
4. Access to a Library of Unlimited Content
It is the business model of the video and music streaming giants. If we take the example of Netflix, the current leader in the VOD industry, it relies heavily on its value proposition. Netflix offers an unlimited rental service, in exchange for a very affordable monthly subscription, by offering a wide choice of products whose quality meets the requirements of its customers. These are often, for example, big-budget series and movies, which fans are fond of. This therefore greatly encourages consumers to subscribe. And with such products, users are always willing to pay the price.
In addition, always with this very strong value proposition, Netflix has been able to integrate comfort and ergonomics: interesting features, access to content, even offline, and on any digital medium. As a result, this company, if only with a subscription, has become the number one in its sector despite the unavoidable and formidable competitors that are piracy and illegal downloads.
In this regard, the 1min30TV channel has also adopted this type of economic model to better meet the expectations of Marketing enthusiasts.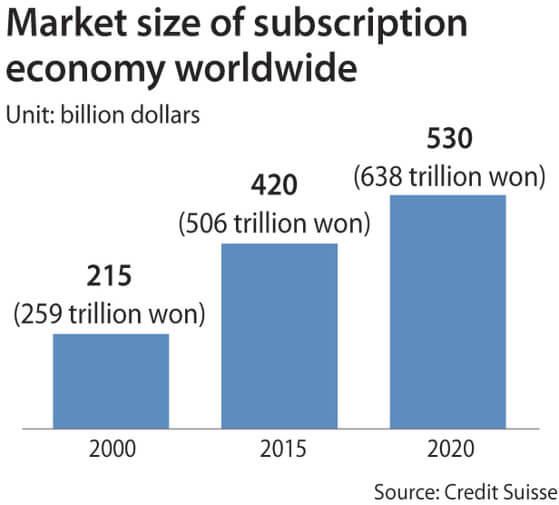 5. The Premium Subscription
The so-called "premium" subscription is often a paid subscription, in return for which the company offers products or services better than the basic free version. For example, if, in e-commerce, an Internet user wishes more information or more services, he will be invited to take out a Premium subscription. He will then be able to benefit from privileges such as free shipping, faster checkout, support tickets processed faster, etc.
For this business model to be profitable and viable, customers must perceive the differences between Premium offers and free services. The cost of the Premium subscription must be justified. This will promote customer loyalty and definitely improve the conversion rate.
Be careful, however, because the Premium subscription is also used by software publishers, with a very different meaning.
For more details on the Premium subscription, a case study is offered in an article of 1MIN30.
6. Subscription for Consumable Products
Today it is the preferred economic model for companies, especially manufacturers. The latter, for example, offers very interesting devices, at very affordable prices, but by focusing on the supplies and consumables associated with them. The consumer will therefore have to take out a subscription for these consumables, not only to always have them at hand but above all for their greater convenience. For the consumer, the system is undeniably attractive and promising.
Companies have taken advantage of the change in user consumption habits. Young millennials, for example, are more in a logic of sharing and use than of purchase. Every day, we have concrete examples: the coffee machine and its capsules, the printer and its ink cartridges, the razor and its blades, etc.
7. Subscription to Boxes
The box market has become commonplace since its appearance in 2010 in the United States. This type of purchase has even become a big trend with consumers, because in e-commerce, almost all fields of activity have embarked on it to offer an assortment of products: tourism, high-tech, cosmetics, food, clothing, delicatessen, etc.
But which Business Model to choose for this type of subscription? Starting from a bright, even ingenious idea, asking the right questions is essential in order to be able to obtain the right economic model. For example: what products to put in the boxes? Boxes intended for whom or for what type of customer? Who produces the goods? Do everything yourself or use providers? At what price? What type of subscription to choose from? What packaging and what guarantees? How to ensure logistics, storage, and shipment of boxes? Which customer loyalty system to adopt? In short, so many questions whose answers will be used to build an ideal Business Model, while not forgetting that we are in e-commerce.
In terms of subscription boxes, two possibilities are available to future entrepreneurs:
Among the products offered, the customer himself chooses the content of his box. He chooses only what he needs and therefore the risk of dissatisfaction is less.
The surprise effect: the customer does not know the contents of his box, but you offer him a very high-quality product that will not be likely to displease him. If the customer likes the content of his box, the company will gain his trust and he will certainly renew his subscription.
Once all the elements are in place for the launch of the project, you can either manage everything yourself and use the service of an online store creation platform, or completely trust a specialized agency like 1MN30.
8. The Simplifying Subscription
Generally, the particularity of companies that opt ​​for this type of subscription is the obvious segmentation of their clientele: services for companies and services for individuals. They may offer only one service, but many do multi-service offers. Among the best-known services, intended for professionals, there is cleaning, window maintenance, minor maintenance work, equipment maintenance, etc. For individuals, it is often cleaning, ironing, animal care, garden maintenance, babysitting, tutoring, odd jobs, or even personal services.
For companies that opt ​​for multiservice, several types of economic models can intervene in the same project. Admittedly, the principle of the subscription remains the same, but, for example, the targeting of the customers will be different according to the services. It is therefore essential to properly analyze each activity. To do this, you should always choose the best analysis tool that matches your project.
9. Insurance Subscription
This offer can be a good idea to attract customers. The integration of insurance in a subscription is a kind of guarantee for consumers and can also give an image of the seriousness of the company. The latter will then have to study which guarantees can be adapted to its activity or activities, then find the right formulas from the insurers. This is important so as not to have to offer more expensive products. Subscriptions for the rental of vehicles, clothing, tools, or even toys are often concerned about taking out insurance. If we take the example of the vehicle subscription, what is expected in the event of a crash, breakdown, theft, vandalism, or simply an offense? In the event of an incident, for example, a guarantee of intervention could be interesting for consumers. The more assured they are, the more they are reassured and become loyal customers.
How will Subscription Economy Model's Future be?
The subscription economy model started to be popular after 2010. The main reason for the subscription economy model's popularity is its profitable sides for the businesses. The subscription economy model also supports customer support and solution services along with digital marketing budgets. Most of the industries follow the subscription economy model because it focuses on customer retention and experience more than just performing sales. Customer Retention requires customer happiness, loyalty, and brand power together. Thus, marketing and customer solutions are more important than the times before 2010.
The subscription economy model will increase its popularity thanks to cost-effective and profitable features. All global companies will focus on Subscription Economy according to their industrial conditions.
Last Thoughts on Subscription Economy and Holistic SEO and Digital Marketing
SEO is a familiar industry to the subscription economy. Both SEO agencies and SEO technologies focus on implementing a subscription economy model with their customers. SEO Newsletters, SEO Educations, SEO Webinars, SEO Communities, SEO Groups on Social Media and SEO Posts on Social Media, all serve the customer relations, retention, and subscription economy. Holistic SEO is a more comprehensive approach to SEO. Thus, implementing the subscription economy model is harder for Holistic SEO, since it requires also Local SEO, Technical SEO, Branding, Growth Hacking, Pagespeed, and Design services all together under one umbrella. But, with the help of Artificial Intelligence and Data Science, I believe that Subscription Economy Model will be implemented for also SEO industry with a broader approach.
Our Subscription Economy Model article will be improved by time as the new information, examples and approaches occur.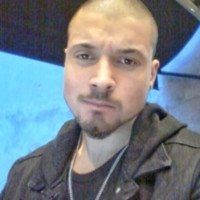 Latest posts by Koray Tuğberk GÜBÜR
(see all)