No matter whether on Facebook, Instagram, Twitter, or another social media platform – if you create a company presence, you really have to be present. While the social media manager ensures the greatest possible reach and the establishment of a fan base through good, viral content, marketing campaigns, and a lot of interaction, the community manager has to look after the existing fans, satisfy them and thus maintain them. The aim is to turn regular visitors into unique guests. This can be achieved through direct and continuous dialogue, friendly responses, competent answers, quick reaction times, and active participation in the community. Community Manager convinces through personality, friendliness, patience, competence, and service.
How to Manage a Community Through Social Media?
As soon as an active community exists, it must be looked after and controlled. There is hardly anything worse on the social web than a reaction time that is too long. Users become fans of a company page because they want to be regularly informed about products, promotions, competitions, or the company itself and can contact it directly if necessary. 53% of customers expect a response within a maximum of one hour. If it is a complaint, it is 73%.
The task of community management is to provide competent advice, to answer user questions promptly, to react quickly and professionally to criticism or complaints, and to build relationships with (potential) customers. Through social networks, companies receive customer opinions delivered free of charge and can respond quickly and individually to customer requests in a direct dialogue – provided they are present and listen carefully. Those who listen to their customers and respond appropriately will be rewarded.
Other good content can come from the community itself. So-called user-generated content is pretty much the best thing that can happen to a company. When fans post their own content on a company page, it spreads in their friends' news feed. The community manager should always share good content from the fans on the fan page and thus also allow the entire community to participate.
Good community management can increase the online reputation of companies. It is part of the online support and, at best, has the consequence that the company is perceived as competent, customer-friendly, cooperative, committed, and service-oriented. It is important to always keep in dialogue with the community, to initiate current discussions, and thus to keep the community alive. Listening and reacting, entertaining, helping, mediating, and motivating – a community manager has numerous tasks and often has to manage a balancing act between customer requirements and company interests. He is the one who delivers the company's news or answers – positive but also negative. In order not to be torn apart by the angry general public, the Community Manager requires a lot of sensitivity and every now and then a tightrope walk. Always friendly and factual but still the boss in the ring. Community management also means controlling and, if necessary, taking action. The goal is satisfied customers and a lively community that feels connected to the company interacts with it and thus disseminates its content or messages.
You also may want to read our some of the related Marketing Guidelines.
3 Examples of Community Management Through Social Media
1.Elon Musk is responding a customer for his bad experience in a Tesla Shop.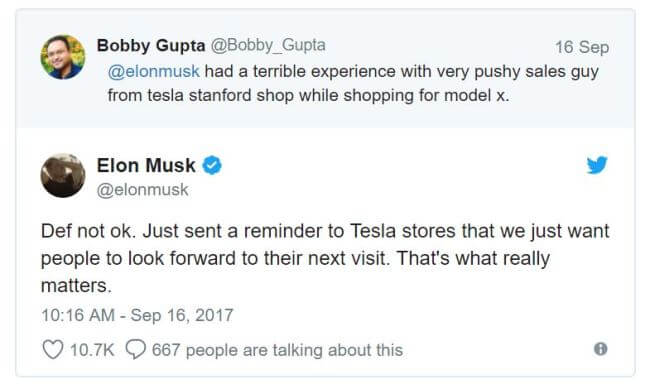 2.Sephora creates a sincere chat with its customers.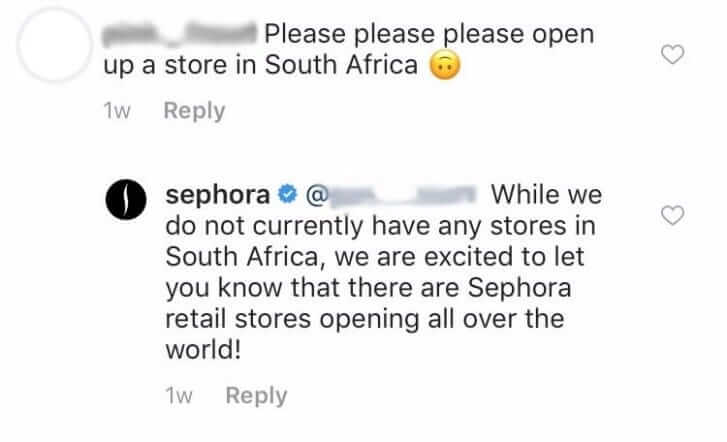 3. A nice Community Management example from Wendy's with humor.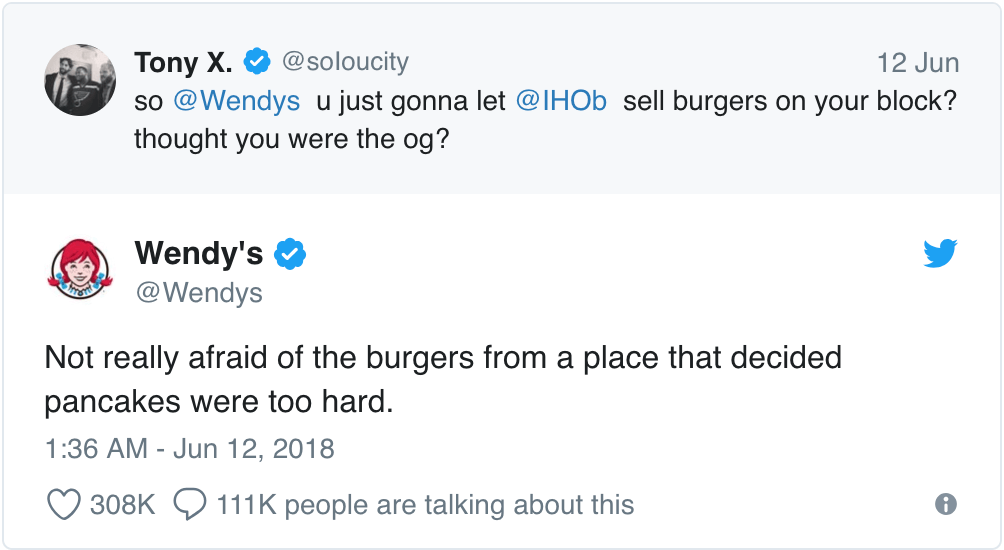 All of those examples create sincere closeness with the customers. They also go viral and reflect the company's good nature and profile.
Community Management Basics
Both the community manager and the community members need clearly defined guidelines for handling, behavior, and communication with each other. Clear rules that must be followed make it easier to argue in the event of a crisis. Violations of community guidelines such as insulting, racist, obscene, or otherwise inappropriate content and comments can be more easily identified and punished with reference to the rules. A friendly tone is a prerequisite for a peaceful community. A community manager cannot be provoked, often has to keep a cool head, and have a de-escalating effect. He knows his Pappenheimers and knows exactly who within the community likes to express biting comments or critical objections, always keeps an eye on these people, and responds as soon as this becomes necessary.
News sites in particular often have to deal with trolls. These users disrupt the community with stupid comments and have only one thing in mind: attract attention and cause as much unrest as possible. There are various strategies here for dealing with such users. Despite its initial effect, disabling comments or blocking the trolls are not effective methods to manage users with bad intentions. Instead, Community Manager can create a high-quality group which can compress the trolls and sarcastic users with their respectful vision.
Depending on the company, it is advisable to develop social media guidelines for your own employees. In the case of critical contributions or heated discussions, employees should not suddenly attack customers in an inappropriate tone or contrary to the company's interests and scare them off completely.
What are the Tasks of Community Manager?
There are basically four tasks for community management:
Generation of members: Building a communicative reach is the core task of every community management. Arouse interest and actively market the platform on all communication channels (analog and digital).
Commitment: It is important to constantly promote dialogue. Above all, this includes a motivating and committed moderation, an intensive exchange, and a special appreciation of the most active users. Fans want lasting added value, which is created by constantly updated topics and posts with high utility value and emotional ties. Create experiences of success for your fans, for example through competitions or competitions.
Monitoring: Every dialogue requires monitoring and analysis. This is the only way to identify critical topics and shitstorms in advance and to ban them in time. With reporting, successes and failures can be recorded to find the best strategy.
Interface in the company: On the one hand, the Community Manager communicates externally like a PR manager. At the same time, he also promotes marketing campaigns via social media channels. He also takes over support in simple cases and answers customer inquiries.
Six Tips for Better Community Management
It doesn't always have to be photos: a simple joke, a pun, or a question is sometimes enough to spark a keen interest.
Listening to fans and ccepting feedback: An example of this is the Tschisi ice cream, which is popular in Austria. When it was suddenly taken off the market, there was an increased request from fans. As a result, production was resumed after a few years. The rush was so high that in the first seven days as much of it was sold as other types of ice cream on average in a year.
Real-time marketing: The Cologne brewery Früh, for example, currently integrated the papal election into its community management. Appropriately, the brewery published a picture of a Kölsch with the title "White foam rises".
Taking up and using discussions: In 2012, the new iPhone 4G came onto the market. Like most Apple models, this product also triggered discussions about improvements and deteriorations in advance. LEGO took up the discussion by presenting a smartphone built from Lego bricks. That was very well received by the community.
Share pictures of fans: When fans identify with a brand, they send the company pictures that show them together with the products. Ask if you can use the images to post them on social media channels. This makes your fans proud.
Be spontaneous: Surveys, quizzes, and questions about current topics are particularly popular with fans. This allows them to share their knowledge, experience, or ideas with others and the company receives valuable feedback from the fans.
On Social Media Presence for Customer Service
With larger companies in particular, there is often a separation of company presence and customer service on Twitter or Facebook. The latter gets its own Facebook page or Twitter account so that the content can be separated better. Depending on the size of the company, such a separation makes sense: on the one hand, you get information, on the other hand, help. However, users who are looking for help do not necessarily turn to the support page, but rather post on the company page that is found first. It is therefore extremely important not only to concentrate on the support page but also to manage the normal fan page and to answer the questions asked there promptly.
Socialbakers evaluated the Twitter accounts of large companies and brands, compared the response rate of the support side and the official company side and summarized it in an interesting infographic. The Amazon account @amazon, therefore, has a response rate of 0.03% because a whopping 3,398 user requests were completely ignored. In the Amazon service account @amazonhelp, however, community management does a much better job with a response rate of 77.4%.
If you separate the support and company accounts from each other, you must ensure that incoming questions from both sides are answered promptly. The support account must be properly communicated and "misdirected" users must be referred to them in a friendly manner.
Negative Feedback Flows in Social Media: How to Manage it?
Nobody likes negative feedback. Public criticism and bad reviews are probably the ghost of all entrepreneurs and often an inhibitor to their own social media presence. While a complaint by email or phone only affects the company and the customer, everyone on Facebook or Instagram and Twitter can complain publicly to their hearts' content. But what to do if you are suddenly faced with (perhaps even unjustified) criticism? React fast? Wait? Or maybe just sit out? Is this an exception or does a small mosquito now develop into a full-blown (shitstorm) elephant? Just delete the negative feedback and hope that nobody notices it? But what if? Do we have a "censorship debate" that is really making waves?
Hopefully, this never happens with professional community management. By continuously maintaining the fan base, you can prevent an escalation and react immediately at the first signs. Good crisis communication is the be-all and end-all of any social media strategy. Because one should not only deal with the "worst-case scenario" when the outrage is already in full swing. As I said, the social web has a different era. Keyword response time. And you can only react quickly if communication strategies and escalation mechanisms have been developed in advance.
As part of our social media services, we can take over individual parts or entire community management including the editing of company pages and content production for our customers.
Social Media Marketing and Social Media Community Management, Social Media Optimization terms are related to the Holistic SEO. Knowing the basic principles and beyond always will help a Holistic SEO for his/her SEO Projects.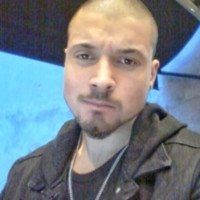 Latest posts by Koray Tuğberk GÜBÜR
(see all)